Unforgettable Weddings and events created at Nu-Lumeah, Food I Am
The Food I Am name is highly regarded for creating spectacular events, fine dining & service to match. Tania and her team strive to create an unforgettable experience to all who walk through their doors. Whether you are thinking of holding an intimate event in our open plan kitchen & dining room, a cocktail party on our deck or an occasion to rival no other in our spectacular marquee.
Your guests will enjoy extraordinary views over the region whilst dining in sophisticated, contemporary surrounds at our rural property, "Nu-Lumeah". Both venue options are perfect for special occasions providing a unique experience for sit down lunches, weddings, dinners or cocktails parties. Choose from our seasonal menus and feel free to style the space to create your dream occasion – family reunions, christenings, weddings or Christmas, hens and birthday parties
An intimate dinner party for 20 with a degustation menu, a casual stand-up cocktail party for 150 or a sit down wedding, we will ensure that you and your guests walk away having enjoyed an exceptional experience at Food I Am.
To view our venue or for further information contact events@foodiam.com.au to discuss your special day.
THE SETTING
Celebrate your wedding at Food I Am, the setting is simply magical! Located on the highest elevated building site in Wagga Wagga. Amongst 100 acres of rolling hills with expansive views, sits your unique wedding venue! At sunset, your venue turns into a flickering wonderland as the region below lights up!
THE CEREMONY
At your request the surrounding landscape can include a beautiful space ideal for the performance of wedding ceremonies
PERFECT FOR A MARQUEE
There are no limits, tailor the size of your marquee to suit the style of your wedding and the number of guests. Whether a sit down event for 150 or a stand up cocktail wedding for 200. We have the space and the view.
THE PHOTOGRAPHS
Our contemporary rural backdrop has the most spectacular locations for your wedding shots.
INTIMATE, OUTDOOR SPACES
Only limited by your imagination – make your event unique and special. A venue to take on your dream wedding.
A VENUE TO MAKE YOUR OWN
Our elevated deck and surrounds can be turned into a perfect place for your guests to enjoy canapes and pre-dinner drinks.
DINING
Whether it is fine dining or canapes, create your own dining experience or have us arrange it for you.
CONTACT US
Email events@foodiam.com.au to inspect our venue. After we have learnt more about the vision you have for your special day i.e. approx. how many people will be attending, sit down wedding or stand up cocktail etc. we will be able to provide a quote.
STRAIGHT FROM THE BRIDE & GROOM'S MOUTH - Don't just take our word for it!
"We would just like to pass on a huge thank you for making our wedding day so perfect. We couldn't have asked for a better venue and a better day thank you for all your hard work that was put in over the weekend and the months leading up to it. You made everything seem so easy and nothing was a hassle we just wanted to say a big thank you. Mick and I truly had the best day and it wouldn't have been possible for all your help and guidance.
Thank you so much"

Leah and Mick October 2019
"We, along with our families and all of our friends had an absolutely beautiful day at Food I Am and we can't thank you enough. It's been just over two weeks since our wedding and every time we chat or catch up with anyone who was there, they say such lovely things about how stunning the venue was, how amazing the food was and, in particular, how great the service was. It was the most incredible day and this was largely thanks to your professionalism, sense of calm and the passion that your whole team put into making sure every aspect of your service was exceptional. We feel incredibly lucky that we were able to celebrate our wedding with you at Food I Am and the Riverina is so lucky to have a venue in the region that is of such a high standard.
We are really grateful for all your help in the lead up to the day and for being so easy to communicate with and make decisions with. Our initial attraction to booking our wedding with you was because you were so relaxed about the process. You armed us with the necessary information to make a decision but also backed that with so much care and joy for us - you never put any pressure on us to book with you and you always made us feel comfortable to ask questions about the package and you spent time meeting with both of our families in order to book. The other thing we really loved was that your package and pricing was so transparent - no hidden costs here and there if you made small changes or wanted to add more time. We really wanted to give you this feedback as this is a very unique wedding package right from Sydney through to Melbourne - everywhere we looked had a base rate package which seems reasonable but then the second you want the space for longer, more food, change the wine, bring a band etc the price changed, making it very difficult to work out a budget for the day.
Once we had booked with you, you continued to look after us in such a loving and caring way. I (Kate) remember the many phone calls to Tania in the early days where I was literally crying on the phone trying to navigate the whole process of booking caterers, photographers, florists etc. Tania, you were so understanding and did everything possible to ensure that this process was easy and you never made me feel silly for being so emotional! I was so grateful for those days of discussions. And boy, are we grateful we chose Food I Am for our catering. The food was incredible and all of our guests have raved about the food and everyone went home very full!
Nerida, thank you for the many phone calls, emails, all of your reassurance, kindness and total domination of all aspects of the day. You are incredibly gifted in so many ways and you really did make our day run perfectly. Your organisation and experience in this industry and role really shone as you managed to have a smile on your face every day in the lead up and most importantly on the day. We felt that we were in the best of hands with you, Tania and the team on the day - you were calm and in control and we didn't worry about a single thing, we were just able to have fun and live in the moment. We are so thankful to you all.
Please pass on our gratitude to the team at Food I Am for making our day what it was. Your bar staff, amazing bar manager and wait staff were also so kind to us and looked after us so well on the day. Our friends and families have raved about the level of service they received all day so please pass our thanks on.
We feel like we were looked after on the weather front too - it was the perfect conditions to enjoy the sanctuary that you have created up there - the lawn, the views... it is just stunning! You have really gone above and beyond".
Lots of love,
Mick & Kate March 2019
"Honestly, we couldn't have organised our wedding from Adelaide without your help and keeping us so organised and calm. Thank you both for everything you did for our special day!
Our sunset and venue photos are beautiful … 5 star review.
We couldn't recommend a better venue and are so thankful we had our wedding at Nu- Lumeah".
Jessica & Murray November 2018
"Nerida, Tania and the amazing team at Nu-Lumeah, Food I Am. I can't thank you enough, Saturday was absolutely incredible and I honestly can;t fault a thing, it was perfect!!! Steve and I had the most amazing day, and it was all because of your hard work and organization. I wish we could get married every weekend"! xxx
Alex & Steve November 2018
"Lara and I held our reception at Nu-Lumeah, Food I Am, we could not be happier with the venue and support both leading up to and on the day.
Nu-Lumeah provided a friendly event manager who met with us and organised the day, this really took the pressure off. On the day we had plenty of friendly staff onboard we were well catered for and everything was taken care of.
The venue is amazing with views of Wagga, perfect for afternoon drinks and great backdrop for the dancefloor later in the night. Nu-Lumeah at Food I Am also provided the opportunity for sunset photos at the top of the property for Lara and I which were up there with some of the best shots of the day.
Great staff, amazing venue and an all round wonderful wedding. Would recommend this to anyone considering getting married in Wagga or looking for a Country retreat for their wedding".
-Sam & Lara Lollback - October 2018
"I saw that view and I knew that anything else was going to be a bonus"
_ Brooke Chapman & Nathan Summerfield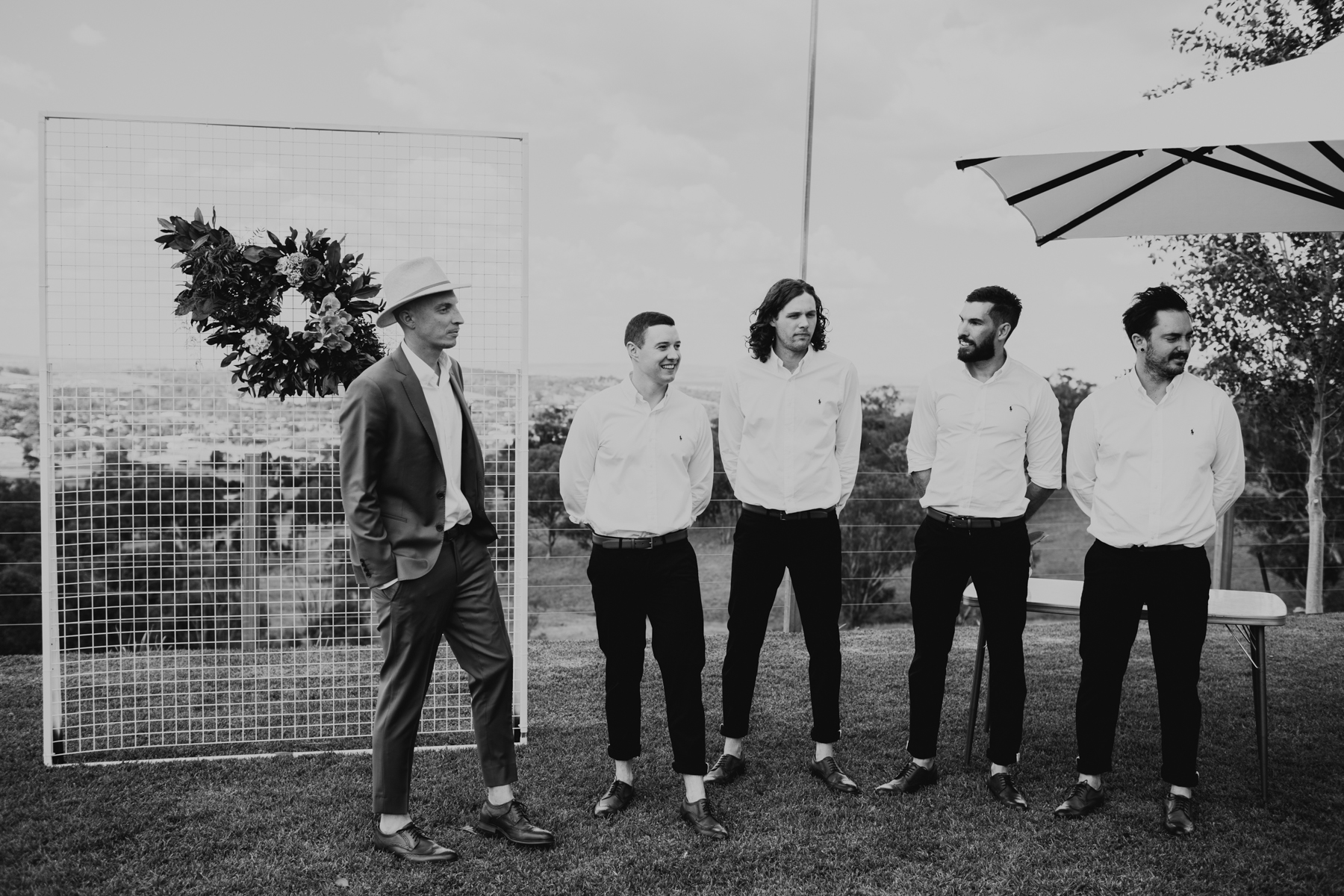 Wedding Photos Credit: Luke Chisholm
Wedding Photos Credit: Luke Chisholm